Earlier Volumes | Future Volumes
As told by our secret agent here, I jumped at the chance to do a preview of Special A for you.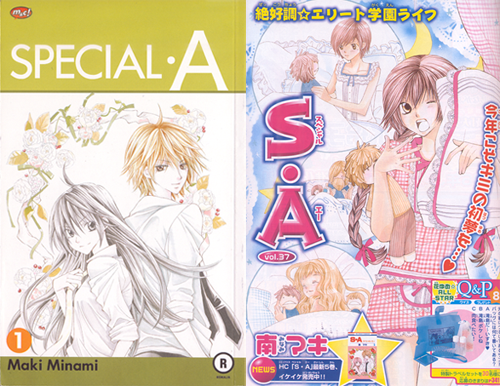 Left: Special A vol 1 Indonesian edition published by M&C.
Right: One of Special A chapter cover from Hana to Yume Magazine.
Do you have competitive friends? What do they do when you outdo them? Struggle to get you back ASAP?
That sounds exactly like HANAZONO Hikari, our main heroine for this manga. She was defeated by TAKISHIMA Kei when she was 6, at a wrestling game. Yes, a child's play! She was deeply insulted with the result (and how Kei behaves, actually!) and vowed to take back her honor as a champion.
However, 9 years later, she is still Miss Number Two. Unable to defeat Kei year after year, be it in class, sports game, likeable degree among the people around them, and even teaching ability! Seriously, this guy (Kei) has too many gifts! But, not without flaws. (see Reason #2 below!)
Both of their fathers share the same hobby of watching pro-wrestling matches in their spare time together. Despite the difference in their social and economic class, these two fathers enjoy wrestling like there is nothing else enjoyable in this world.
Hikari begs her father so she can go to the same school as Kei. The Hakusenkan school, where some people have the privilige to join Special A class. People with incredible intelligence and impeccable breed, except for Hikari. She's the average girl and also the only one that attends classes.
Other students has much respect for the Special A members and they bow each time they meet or give total support to what the SA class is doing. However, we all know that nothing is perfect. Clashes with students that dislikes SA members often happen. Some plots are based on these clashes.
Most of the plots, however, are focusing on the special affection that Kei has on Hikari. Often they involve the 'abuseable' Tadashi or Kei's family or business relation. Hikari fails to process this affection with her brain, though, she still consider Kei as her rival.
Other class members are:
(1) The YAMAMOTO Twins, Jun and Megumi. Jun plays violin and Megumi sings, however Megumi never speaks. Their parents are a music producer and a genius violinist.
(2) KARINO Tadashi, the school's director's son. He likes to go out and about.
(3) TODOU Akira, her parents own an airline company. She thinks tea time is highly sacred and important. She also adores cute girls, such as Hikari.
(4) TSUJI Ryou, friends with the twins, his parents own a sports apparel line, and he doesn't like sweet stuffs.
With friends like that plus some other wacko characters, I am already deeply amused at the first volume. But, will Hikari finally be able to shred off the 'Miss Number Two' from her trademark and beat Kei? I am anxiously waiting for volume 2.
Why you would be likely to pick up this manga at the bookstore
The story has a lot of potential for any audience.
Reason #1: Super rich, smart, and hot boy with middle class girl romance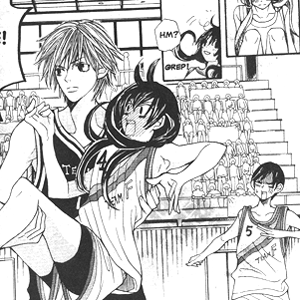 Kei takes Hikari in his arms. We all know Kei loves Hikari, but the person herself doesn't realize it. Somehow, her character seems familiar.
Reason #2: But he turns out to be a scary person


Kei memorizing some punks' phone book entries after he was informed that they attacked Hikari (of course, Hikari takes care of them before he could.)
Reason #3: Sport-loving characters

You name it, we play it! From top, clockwise: Nagi horseback riding, Hikari playing tennis, Kei plays soccer, and then Kendo, Hikari at a basketball game, and lastly, volleyball game.
Reason #4: And did I mention about weird characters?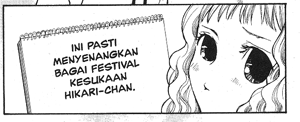 A girl that speaks with a sketch book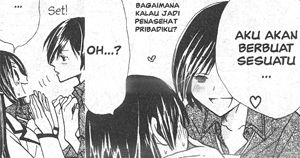 Boyish girl that loves Hikari

Childish-faced Papa (Kei's)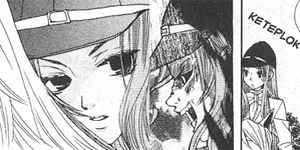 Double-faced cousin (Yes, she's Kei's cousin)
More spoilers?
Want more spoilers on their love stories? These happens in later volumes between Kei and Hikari and also Tadashi and who?
Pea's Pearl*
Result is important, but what's more important is the process to reach that result.
---
* Yes, I know it's corny. The Indonesian phrase for favorite quote is "kata-kata mutiara", or literally, Pearl Words.